Northgate Veterinary Supply
1500-A Copperhill Parkway
Santa Rosa, California 95403
Toll Free: 888-DOGCAGE (888-364-2243)
Email: Northgatevetsupply@gmail.com
Highest Quality Cost Effective Veterinary Solutions & Equipment....
Kennels, Dog Runs, Animal Cages, Kennel & Cage Gates, Bathtubs, Wet-Tables, Scales & Accessories
We can help keep your dogs, cats and other pets happy and safe.
Thank you for visiting our web site. Northgate has supplied quality veterinary practice products and veterinary equipment for more than 40 years, specializing in innovative and practical cages, dog runs, isolation rooms, tubs and tables, scales and accessory equipment.
Our service goes beyond products. We are happy to discuss your specific needs with you, fitting our products and experience to your requirements and helping to detail your order.
With more than 50 years' experience in practice, animal medicine research and product development, Northgate Veterinary Supply offers efficient, effective solutions for your needs. We can provide customized designs and low cost solutions for indoor or outdoor modular boarding, isolation, critical care, post-surgery, recovery or research facilities with above floor drains and rod or glass doors for block wall kennels providing you with the multiple environmental control systems you need.

FREE DESIGN CONSULTING AND ESTIMATES. EASY INSTALLATIONS AND CUSTOMER REFERENCES.

SATISFACTION SINCE 1984! - See our Customer Testimonials!
See how you'll save...
Kennels
Click on a photo for more information!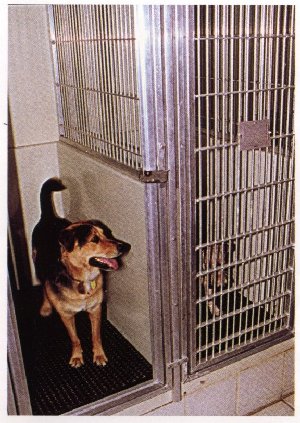 Dog Run Gates & Glass Doors
Custom Aluminum Gates For Block Walls

Create a Kennel anywhere with ULTRACAGE TM
Create Low Cost Cage Systems with ECONOCAGE TM
Compare ULTRACAGE & ECONOCAGE!
Create Isolation Cages with ISOCAGE TM
Create a mini ISOWARD TM
Create Luxury Cat Boarding Suites with CAT CHATEAU TM
Dog Run Gates & Glass Doors
Custom Aluminum Gates For Block Walls
Northgate also carries these other fine veterinary solutions...
Compact ULTRATUB TM SCRUB TABLES
Versatile Fiberglass ULTRATABLE TM WET TABLES
.