gate Veterinary Supply




Northgate Veterinary Supply
1500-A Copperhill Parkway
Santa Rosa, California 95403
Toll Free: 888-DOGCAGE (888-364-2243)
Email: Northgatevetsupply@gmail.com
Cost Effective Veterinary Solutions....
Cat ChateauTM
Northgate's Easy-Maintenance Luxury Cat Boarding Suites

Northgate's Cat Chateau converts existing level floor space into two complete and roomy enclosures. Attractive, comfortable, and easy to service. The sanitary-grade fiberglass stall has no seams or perforations to leak or harbor bacteria or viruses, and can be installed with its drain line above an existing floor surface. Wall dividers above the stall are metal-framed safety glass and when installed to reach the ceiling, space beneath the stall is fitted with simple under cage, storage cabinets. Northgate's exclusive safety glass Glasdor door can be hinged on either side to open in or out.
No-obligation suggestions for employing the Cat Chateau as an attractive reception area or entrance feature are available.

| | | |
| --- | --- | --- |
| | The Cat Chateau is a unique, roomy isolation unit for boarding cats. It is a 30" X 48" fiberglass stall with a glass gate and solid polythene sides (up to 6' high) to help prevent disease, cross contamination and contact between boarding cats. There is room for a cat tree, litter box, food, water and up to 3 or 4 cats from the same owner. The frame puts the cage 2' above the floor for ease of cleaning and handling. The space underneath can be used to store the cat carrier and other items brought by the owner. | |
Four-side safety glass visibility provides
attractive, unconfined appearance.
Reversible door is hinged to swing in or out.
Roomy interior accommodates cat trees,
toys, litter pans, and food trays.
Compact design saves space and
installation costs.
One-piece stall unit has smooth interior
with rounded corners for comfort,
easy cleaning and sanitation.
Impervious fiberglass stall and glass
divider walls help prevent transfer of disease
between cages. Floor slopes slightly to
rear-centered drain.
Convenient, space-saving, under-cage
storage. A cabinet under each Chateau
stores the patient's carrier, belongings,
special diets, and medications, making it
simple to keep them separate from the
hospital's supplies or other patients' items.
The wonderful waterwall -- an exciting new idea
combining patient enjoyment and client fun.
An aquarium or aviary,
built into the wall between
your Cat Chateaus and
your reception or other
client areas, will be a
charming and attractive
hospital feature,
demonstrating your
concern for quality patient
care and comfort.

Your clients will enjoy
watching the interplay
between the cats and
birds or fish.



SUGGESTED WATERFALL FLOOR PLAN
Reception Area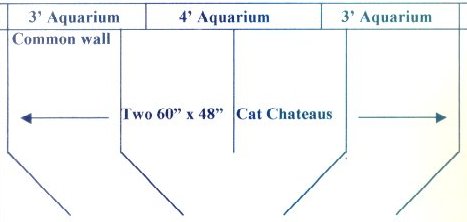 Other sizes available at competitive prices. Attractive lease rates. Call for quotes.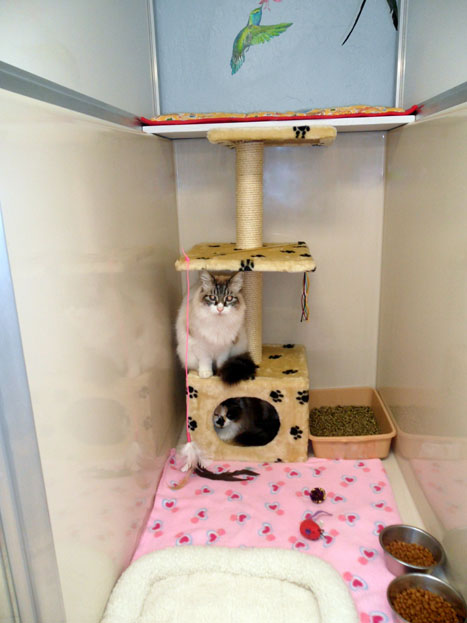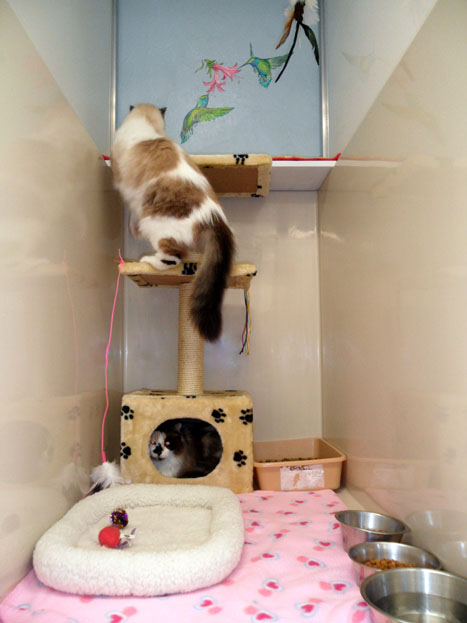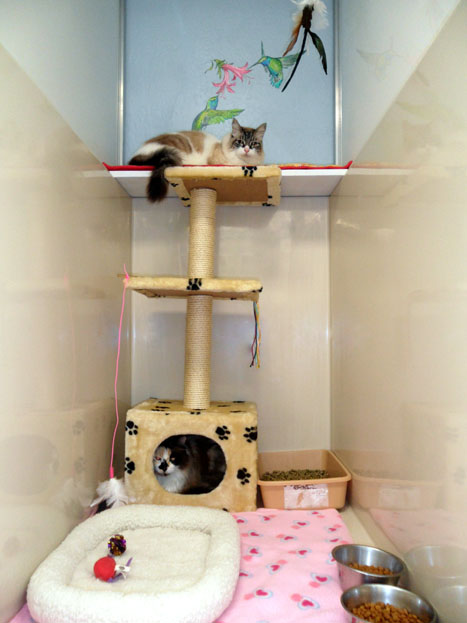 See our Customer Testimonials!
See how you'll save..
Dog Run Gates & Glass Doors
Custom Aluminum Gates For Block Walls

Create a Kennel anywhere with ULTRACAGE TM
Create Low Cost Cage Systems with ECONOCAGE TM
Compare ULTRACAGE & ECONOCAGE!
Create Isolation Cages with ISOCAGE TM
Create a mini ISOWARD TM
Create Luxury Cat Boarding Suites with CAT CHATEAU TM
Dog Run Gates & Glass Doors
Custom Aluminum Gates For Block Walls
Northgate also carries these other fine veterinary solutions...
Compact ULTRATUB TM SCRUB TABLES
Versatile Fiberglass ULTRATABLE TM WET TABLES