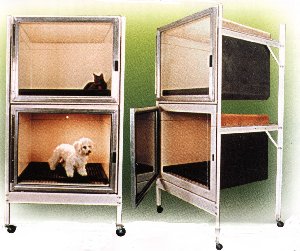 Isocage provides ideal environment control for birds,URI cats, parvo puppies and other diseases where contamination is a concern.
THE ISOCAGE MODULE -- SIMPLE, SECURE, EFFICIENT, ROOMY
The IsocageTM is an easy-to-clean, 30" x 36" fiberglass cage with a clear plastic door and an easy-to-operate, single button latch. Hepa filters on the air circulation system control most pathogens. These cages are ideal for an isolation ward to quarantine kittens with URIs and Parvo puppies.
When Brigham Young University was forced to build an isolation room for each species of pet that they were using in their animal techniciantraining program, (dogs, puppies, cats, kittens, rabbits, guinea pigs, rats, hamsters, birds, ferrets and even snakes) we were able to provide them with Isocages, which solved the problem and saved them them a ton of money
The module is sealed and self-contained. The interior surface of the cage module is smooth, molded fiberglass, easily cleaned with no drain openings, joints or crevices to harbor disease and odor-causing bacteria. Lighting can be provided from the outside through the translucent ceiling.
Isocage has forced output of room air, HEPA input and output filters which remove nearly 100% of pathogens. (Standard replacement filters are available at local hardware stores) Cleardoor is sealed with a pliable gasket which allows insertion of IV and other lines. The optional PVC-coated floor rack is easily removed for cleaning. Northgate's new Isocage pet isolation unit converts any hospital or laboratory space to permanent or temporary isolation with cage space roomier than competitive units.