Northgate Veterinary Supply




Northgate Veterinary Supply
1500-A Copperhill Parkway
Santa Rosa, California 95403
Toll Free: 888-DOGCAGE (888-364-2243)
Email: Northgatevetsupply@gmail.com
Cost Effective Veterinary Solutions....
RUN GATES & TEMPERED GLASS DOORS
Your choice -- or use them in combination!

GlasDor and Rod Gate Combination

DOG RUN GATES. 3 STANDARD SIZES OR CUSTOM SIZES AVAILABLE
Northgate's standard sizes can be adapted to fit most
runs, or we will customize to your requirements. Made
with 1-1/4" aluminum frames and 3/8" aluminum rod,
they are reinforced to resist damage and feature
heavy-duty hinges and stainless steel latches. Gates are
reversible to swing right or left, in or out.

GLASDOR TM TEMPERED GLASS CAGE DOORS
The new GlasDorTm tempered glass door is adaptable to
most runs and cages, providing for an attractive,
unconfined appearance and easy maintenance. The
doors are framed in slip-fit aluminum extrusions to
minimize welding which can harbor odor-producing
bacteria. Like conventional run gates, GlasDors can be
hinged on either side to swing in or out.



*GlasDors are available separately or as options on
Ultracagel and Econocage at no extra charge other than
crating.
RUNGATE & GLASDOR STANDARD SIZES & PRICES
28" x 71"....................$369
34" x 71"....................$399
46" x 71"...................$499
Notes: GlasDor requires special crating @ $39 each.
F.O.B. factory, freight collect
CUSTOM SIZED GATES
Custom designed for block-wall runs!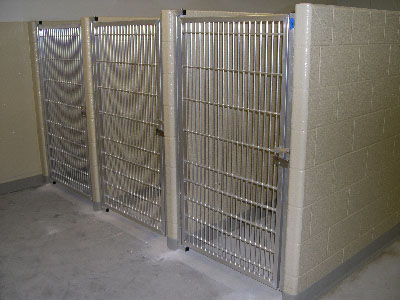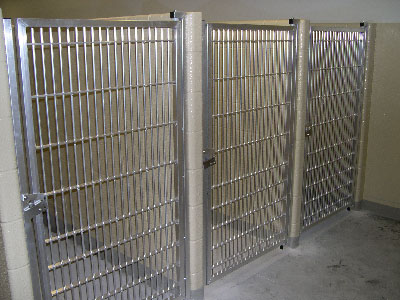 Click Here To See Drawings For Aluminum Gates For Block Walls
See our Customer Testimonials!
See how you'll save..
Dog Run Gates & Glass Doors
Custom Aluminum Gates For Block Walls

Create a Kennel anywhere with ULTRACAGE TM
Create Low Cost Cage Systems with ECONOCAGE TM
Compare ULTRACAGE & ECONOCAGE!
Create Isolation Cages with ISOCAGE TM
Create a mini ISOWARD TM
Create Luxury Cat Boarding Suites with CAT CHATEAU TM
Dog Run Gates & Glass Doors
Custom Aluminum Gates For Block Walls
Northgate also carries these other fine veterinary solutions...
Compact ULTRATUB TM SCRUB TABLES
Versatile Fiberglass ULTRATABLE TM WET TABLES